About the Band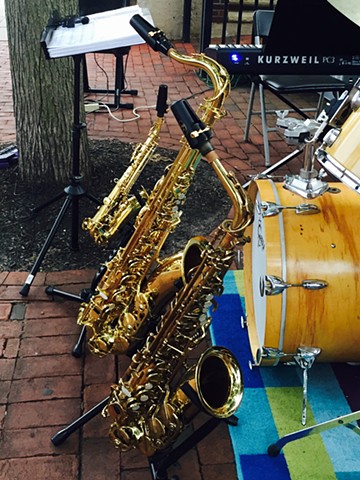 Tri City Jazz performs jazz music in a wide range of styles. It's a sound of the streets of Red Bank, Long Branch, and Asbury Park.
The group's signature tunes "My Song" and "Country" have roots in the 1970's ECM label sound. Bebop and modal standards from John Coltrane's "Blue Train," "Equinox," and "Afro Blue"...Wayne Shorter's "Footprints"...Herbie Hancock's "Watermelon Man" and "Maiden Voyage"...and Miles Davis' "All Blues"...are long time Tri City Jazz fan favorites. Plus, a number of Tri City Jazz originals are featured at each performance.
Tri City Jazz (formerly "ProJazz") came together in 1990. The group has been heard at La Havana New Hope, Marriott Princeton Forrestal Hotel, at area cafes, Long Branch Pier Village, First Night events in Red Bank and Toms River, private parties throughout the area, and at a variety of jazz festivals. A recent notable performance was before 4,000 at the CD-ROM Conference's opening reception in San Francisco.
The group's musicians have each performed in a variety of classical, jazz, and rock ensembles. Personnel includes: Chris Andreach - saxophones; Mike Keith - keyboards, bass, arrangements, original compositions; Ben Cahill - keyboards and bass; Tom McMillan - bass; Tom Hyland and Kevin Gazzara - drums and percussion.